Tuesday
Nov. 2
---
---
Hello again! I'm having trouble getting through and uploading my files, but I hope you can see these pages by the end of the week.
Today felt like I was in university again. We had three different lectures on the Parliamentary system, including discussions on the constitution, the executive branch (especially the Privy Council) and the electoral system. The last was delivered by Canada's Chief Electoral Officer, Jean-Pierre Kingsley. We also met with a woman with the toughest job in Ottawa: she's the chief media officer for the Senate. She spends all day defending the existence of the "Upper Chamber." She was very articulate and passionate, but I still pitied her!
The highlight of the day was a resource fair. I received a huge boxful of teaching materials on government. I'm still not sure how I'm going to get it home.
Of course, no day is complete without a disaster. We were to go to Rideau Hall at 5:30 pm, but no bus showed up to take us there. Instead, 50 of us had to catch cabs. Considering it was rush hour and it was pouring rain (it was the first day of bad weather), getting 12 taxis was almost impossible. So, I decided to take a bus. Another teacher, Randy Emmerson from Saskatchewan, came along with me, and we struck out for the bus stop.
Four soaking-wet blocks later, we finally found the right bus. A number of locals on the bus took pity on us and helped us find the right stop. After we arrived at Rideau Hall, we knocked on the door to go in for the tour. Trouble was, it wasn't Rideau Hall. It was actually Rideau Gate, a visitor's residence for Rideau Hall. A very nice butler and a very well-dressed but bewildered lady politely got rid of us. We then went over to the main gate and an anxious looking guard stopped us. I thought he was going to shoot, but we flashed our official badges.
"Why didn't you guys take a taxi like everyone else?" he asked.
Given our pathetic and drowned appearance, it was difficult to give an answer. By the time we had walked up the long driveway, I really had wished I'd stayed back at the hotel. But we still got to take the tour!
Unfortunately, it consisted of exactly 5 rooms out of the 170 at Rideau Hall. This was probably a good thing, though, because Randy and I got the carpets wet. Sorry, Adrienne!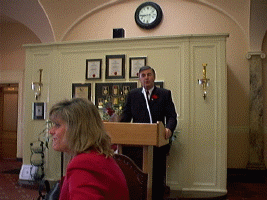 We started today with a morning breakfast at the Parliamentary Dining Room. The guest speaker was Richard Pare, the head Parliamentary Librarian.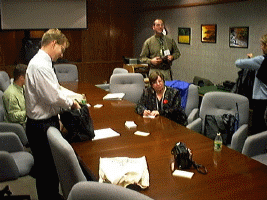 Our focus group finishes its first debriefing meeting. Randy is standing in the background in the dark shirt. We got an impromptu tour of the Hansard office minutes after I took this picture. We had asked this gentleman to take some pictures, and he turned out to be the head of Hansard. He then invited us in to take a look at all the typists and translators. Isn't serendipity wonderful?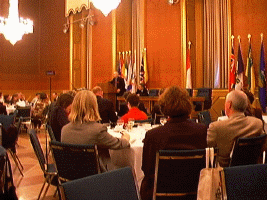 The Chief Electoral Officer for Canada, J.P. Kingsley, is here extolling the virtues of the upcoming U.N. referendum on children's rights.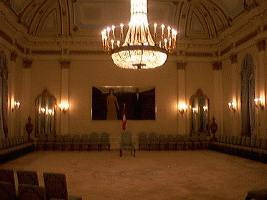 The main ballroom of Rideau Hall. This is where they award the Order of Canada, and present the new Cabinet ministers. Here are some other pictures of Rideau Hall.
Got to go. Take care!!