Saturday and Sunday
Oct. 30 & 31
---
---
Saturday
It's an early Saturday morning. Real people are still sleeping in. Why I'm smiling is unclear, since I'm about to pay the airport improvement tax!

My first disaster strikes early: while getting out my vitamin pills, I spilled toothpaste onto my new overcoat. Considering I was in the middle of a very long check-in line, it was very embarrassing...
My flight was fairly smooth. It was a bit bumpy as we emerged onto the Prairies, but otherwise the only real problem was some poor service at a restaurant during my Toronto layover.
---
---
Sunday
Today has been quite a "walkabout." Ottawa is a beautiful city and I really enjoyed just walking around the downtown. The Chateau Laurier is an absolutely gorgeous hotel and the War Memorial nicely frames it on the left.

The Parliament Building has to be seen to be believed. It's like a beautiful castle. Set on top of Parliament Hill, it truly dominates the city. Last night I listened to the bells chime at midnight and I was awestruck.

The Library of Parliament is a jewel hidden behind the Parliament. Notice the flying buttresses supporting the walls. A rare architectural feature in Canada, to be sure.

Here are the locks that connect the Rideau Canal to the Ottawa River. They are right beside the Parliament buildings.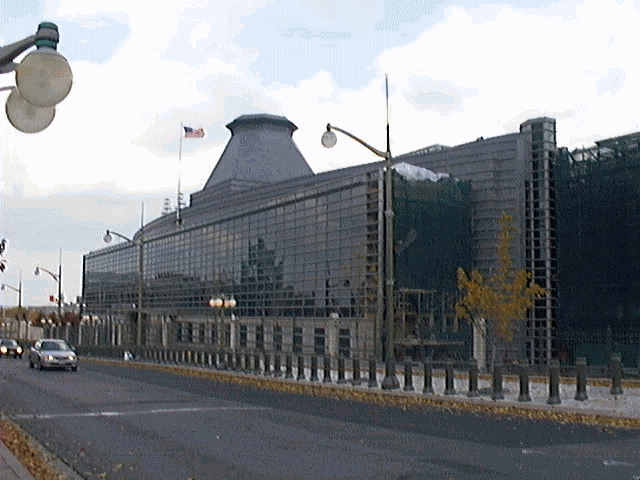 Is that an electronics array on the top of the new U.S. embassy? Should we feel paranoid?
I took a break from my walking tour and I went to see the Canadian War Museum. It was better than some had said, but it is certainly sub-standard compared to other war museums, such as the one in Australia. Here is a nice artifact: this is Isaac Brock's jacket when he was killed in Queenston Heights in 1812. Notice the bullet hole beneath the collar!
If you're interested, I have some more War Museum pictures here.
I also toured the currency museum of the Bank of Canada. As a coin and bill collector, it was a "kick." I learned a lot about the history of money and saw some extremely rare Canadian bills from the era of "business-backed" currency.
Well, I have to go. Time to go to a movie! It was fun to walk around, but my feet, as has been said before, have "been run to bloody stumps."
Cheers!